Science-based Mental Training for the Modern World
Brain-changing Performance Psychology
Here at Arcletic, we research and develop highly effective performance psychology trainings . Our ethos is simple: we take what has worked in the fields of sport, business, and real-life experts, and apply them to our immersive technology. Our psychological skills training can track progress and offer biofeedback.


"Mental Training improves Performance by 15.8%"
Simonmeier (2020) Meta Analysis
The Most Effective Mental Training, Measurable on Your Smartphone
Making the mental training of world-class athletes accessible to all high performers.
For Both Professionals and Personal Growth.
In today's frenetic world, we need to train harder, not longer. There isn't time in the day to waste, and that's why we've compressed 5 hours' worth of mental skills training into bitesize, manageable 5-minute sessions. Perfect for the busy entrepreneur, the CEO, and executive alike.
Our team works closely with experts at the University of Vienna to constantly seek out new ways in which our mental training can be made even more effective than it is already. With the help of these scientific studies, we'll be able to continue to innovate and improve our platform, moving forward. Because, like all high performers, we never rest on our laurels.

University of Vienna
Research & Development Parter
With mental training having been shown to improve performance by an average of 15.8%, those obstacles and barriers will become a thing of the past when you train with Arcletic. There's a reason the world's elite thinkers, sportspeople, and business owners get to where they do; and it's not because they're inherently any better, stronger or smarter. No, it's that they know how to optimize their mental skills.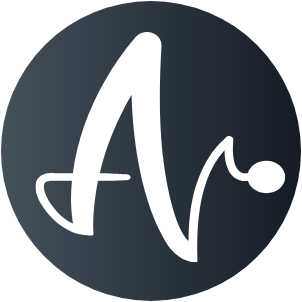 Most Effective Mental Training.
With Live Biofeedback.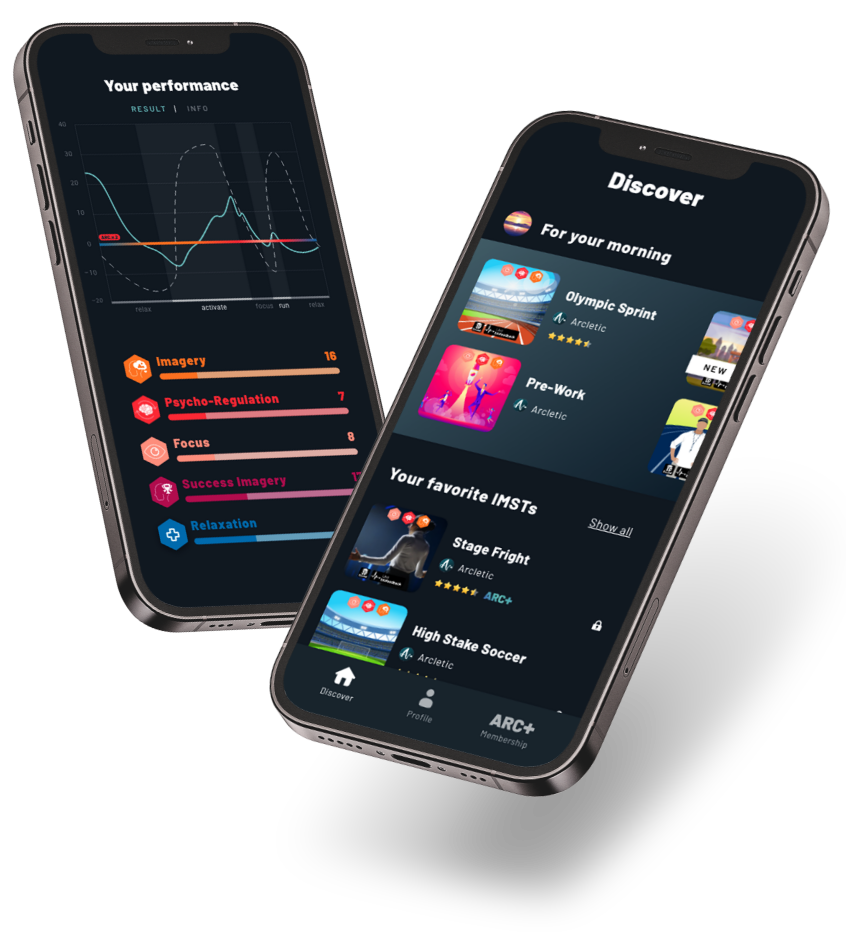 With Arcletic's easy-to-use app, you can access tailor-made IMSTs and mental training on the go, wherever you are. So, whether you're on your lunch break at work, or are travelling abroad to meet a new client, there's always time for some quick mental training. And with our app, it's never been easier.
Real improvements – highly effective!
Arcletic is conducting scientific studies together with the University of Vienna on the effectiveness of our technology.

Arcletic's Brain-changing Performance Psychology
Arcletic researches and developes highly-efficient, science-based audio trainings to produce lasting behavioural changes.
In each 5-10 min training programme we put several months of scientific research and testing
For each short audio, we cooperate with the University of Vienna and partner up with leading experts in the field to include the newest research in performance psychology to the best possible advantage for our clients.
Brain-changing effectiveness
We combine interdisciplinary psychology approaches and study different training versions using physiological measurements. This is our great advantage: Fast-track testing for effectiveness, to combine the most effective parts, compress them, and retest until we are sure that we have found the most powerful output: Short but highly intense, effective mental trainings with lasting effects.
Lasting behavioural changes
We believe everyone can find 10 minutes a day to become the person they want to be. Whether it is for being more confident, happy or motivated, it is up to our clients. Our users decide if they want to use it for boosting their career, enhancing happiness and well-being, overcome anxieties and limitations or creating stronger relationships.
Technology Focused
Our technical research and development team supports our psychological research not just by making the training programmes immersive and easily accessible, but also by developing and improving (bio)feedback measurements and smart AI algorithm incorporated in the trainings.
Upcoming developments
Based on neuroscience research we work on a new generation of addiction reduction IMSTs. Furthermore we started to produce customized training programmes for some users and high-performing corporate teams. Additionally we have started cooperations with well-known external experts from different health and personal development domains. We aim to open the platform further for expert coaches to translate their knowledge into immersive audio trainings for their clients.
IMST. Immersive Mental Skills Training.

Has your progress stagnated in recent months? Do you find your mind clouded when clarity is needed? Are the goals you set for yourself seeming further and further out of reach? If so, then you need Arcletic's mental endurance training and mental strength exercises. If your mind is your greatest tool, then Arcletic offers the stone that keeps it sharp. 
Short (5-8 Minutes) Mental Audio Training
Compact and time-efficient training from elite sports, created for your team's specific needs. Scientifically-backed and proven to work!
Immersive Mental Skills Training (IMST) is developed by Arcletic in partnership with the University of Vienna, as well as leading Performance Psychologists.
This short audio training combines Immersive Audio Technology with Immersive Psychology, combining cognitive intervention with strong emotions to create powerful results.
Arcletic is working with the University of Vienna on the psychology and scientific valuation. Our collaboration with world-leading experts ensures the quality of our training, as well as its scientific validity.
First we researched the "measureability" of mental performance via chest straps, Apple Watch, EKG and skin conductance. Then we came up with something entirely different: measure your mental performance with your finger on a smartphone camera!
Immersive sound for immersive training: Dive into the full power of Spatial Audio technology with our high-quality audios, created with Dolby Atmos for a fully immersive 360º sound-bubble. Experience sound like never before and fall into your mental training arena.
Elite Sports Psychology for your Management Team
Many believe that elite mind strength is reserved for, well, exactly that, the elite. Whether that be the top athletes or the world's greatest thinkers, there's this idea that that kind of mental strength is unavailable to the everyday professional. This couldn't be further from the truth, however.
At Arcletic, we're working with world-class, industry-leading experts to curate more effective and targeted training sessions than ever before. So, keep your eyes peeled because we'll be revealing them very soon!
"Intrinsic Motivation Makes Up 25.2% of Engagement at the Workplace and a 20.3% overall Productivity Increase."
Van de Broek (2021) Meta Analysis
Boosting Productivity...
Priming to Team Goals, Intrinsic Motivation, Company Identity, Lead with Passion, Innovation Driving Mindset, Employee Confidence for Meeting, Sales Pitches, Presentations, Calls...
...Whilst Creating Happier, Healthier Teams.
Regeneration, Stress Relief, Prevent Burnout and Sick Leaves
Custom-Designed
Performance Training
Mental Training With Your DNA
Fit your training to your specific mental performance needs with our bespoke IMSTs.
Work through your fears, improve your techniques, and overcome your limitations once and for all.
We offer unique collaborative opportunities to elite athletes, management leaders, youth academies, and any other high-performers to curate content for your specific needs. Personalise your IMSTs and get the training you need to work through those specific challenges and obstacles that have been holding you back.
With our deviceless tracking technology, specially-formulated immersive mental skills training, and unique ARC V2.0 algorithm, we've been able to put together a package of elite mental training that anyone can utilise.
Our pricing model is dependent on several factors and thus varies for each individual client. Our price will vary depending on whether you yourself have provided the psychology you want to use, for instance, or whether we ourselves have provided it.
Earn With Your Profession
We Work With World-Leading Experts on Customer-Specific Solutions
Work with our business clients on solving their problems, Alternatively, you can bring your topic to our App users for both personal and professional growth.
If you're an outstanding expert (therapist, coach or consultant) and want to bring your know-how into an IMST, then get in contact! We're on the forefront of an exciting journey and would be delighted to walk it with you.
Create Stunning Tech With Us
We're a team of experts in Psychology, Technology, Creativity, Audio, Engineering, Marketing, and Sales. Do you want to collaborate with us in another way? Maybe tech, scientific studies, psychological research, (game) design or anything else? If so, then write to us, we'd love to hear from you!
Each IMST session contains various performance psychology methods. Not in theory, but real exercise to master these mental skills.
Real improvements – highly effective!
Arcletic is conducting scientific studies together with the University of Vienna on the effectiveness of our technology.

#sebastian js-ck-form autocomplete // hidden
#sebastian fb pixel // hidden