Morning Motivation & Inspiration
Once you're awake, the first few minutes have the power to impact your mindset for the rest of the day. There are going to be times when you've had a rough sleep, are feeling unwell, or just can't find the motivation you need.
Start your day with this daily morning inspiration training, and see how your mindset shifts, focus zones in, and your days become more enjoyable and productive.
Prepare Your Mind for a Successful Day
Whether you wake up rearing to go or roll out of bed late — we all need to prepare our minds to appreciate life and focus our energy correctly. Adding this 7-minute morning motivation audio to your routine brings control to your emotions, motivates you to focus on goals, and prepares you to enjoy a grateful yet successful day.
Success starts in the mornings. Use the first few minutes of your day to improve every aspect of your life.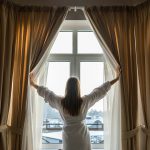 Unlock Energy & Purpose from within
The morning is the perfect time to realign with your purpose, remind yourself what you're grateful for and what it is you want to achieve. Just 7 minutes of good morning motivation energizes your mind and body, unlocking untapped levels of mental, physical, and emotional performance.
Be better for yourself and for others, and feel empowered to conquer every day.
Feel Emotionally Energized
Throughout the day, you have to call on many different emotions, depending on the situations you find yourself in. The power of emotional awareness is unmatched. It helps you make meaningful and lasting connections with peers, colleagues, friends, and family.
This daily morning inspiration helps you unlock these emotions and empowers you to call upon them whenever needed, giving you a deeper appreciation of your own feelings and the feelings of others.
Live Gratefully & Discover a Sense of Giving
Stopping to appreciate what you have transforms your view of life. Recalibrating your mind to be thankful helps you discover a new level of happiness and gratitude, inspiring you to have a more positive outlook on life.
From here, you'll realize the joy that comes from giving, motivating you to spread joy, happiness, and support to others.
In the end, it all comes down to your mind. Transform every aspect of your life with highly specific, most efficient mental trainings.
Measure your heart rate & HRV to track down your training effect, intensity and progress like professional athletes.
Intensify your mental training with our fully immersive 360° sound bubble powered by Dolby Atmos.